Not the Irish kind, although I'm fond of those too. Pubs as in "publications." This is just a page to help you find books, articles, and other stuff I've written, in case you like what you see on this blog and want more.
Take Your Company Global
My latest book, Take Your Company Global, explains how to take your business global in the digital age, breaking down this complex topic and making it more accessible. It explains why outdated approaches to going global don't work anymore, and explains how to think differently about going global today.
Here's some advance praise for the book:
"Take Your Company Global is the definitive guide to building a global business in the digital age."
—Brian Halligan, Co-Founder and Executive Chairperson, HubSpot and Co-Author, Inbound Marketing

"Every entrepreneur with global ambitions needs to read this book." 
—Tope Awotona, CEO and founder, Calendly

"Take Your Company Global makes going global accessible to businesses of all sizes, from start-up to scale-up."
—Kathleen Mitford, Corporate Vice President, Microsoft

"This book prepares the next generation of business leaders to succeed in today's global-first reality."
—Mark Roberge, Co-Founder, Stage 2 Capital; Senior Lecturer, Harvard Business School; and Author, The Sales Acceleration Formula
Found in Translation
My previous book is Found in Translation, written with Jost Zetzsche, one of the world's leading experts on the topic of translation tools. This book helps people understand how translation affects pretty much every aspect of our lives. It was published by Penguin Random House.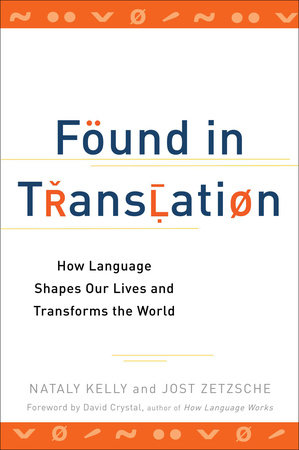 Here is some of the praise we received for the book:
"Nataly Kelly and Jost Zetzsche have assembled a treasure trove of interesting and entertaining stories to show how translation and interpreting affect all aspects of life. Anyone with an interest in languages – both spoken and signed – will enjoy this book." —Marlee Matlin, Academy Award-winning actress
"A fascinating book about language and the importance of translation. Kelly and Zetzsche demonstrate how technology and translation help build communities and expand the quest for knowledge on virtually every subject." —Anthony Salcito, Vice President of Education, Microsoft 
"Found in Translation is a meditation, an exposé, and practical guidebook to humanity's continued, painstaking ascent of our monumental tower of Babel. Without language diversity, we would be intellectually impoverished, and with it we are enriched. But without translators to interpret and bridge that diversity, we would remain ignorant and isolated, locked each of us in our own native tongue's limited worldview." —K. David Harrison, PhD, Swarthmore College and National Geographic Society
"This is by far the most meaningful book on the subject of translation that I have ever seen. The authors have managed to entertain, inform, and show how translation impacts all aspects of our life, from health to business to entertainment and technology, all supported with real-life examples." —Ghassan Haddad, Director of Internationalization, Facebook
The Global Marketing Playbook
I wrote this to help CMOs, marketing VPs, and international marketers walk through the process of developing their own global marketing playbook.
This is an eBook, not a printed book, but it's fairly comprehensive at 46 pages long. I list it here because many readers of this blog come looking for precisely this type of information. It's available online thanks to HubSpot for free at this link.
It covers topics such as how to develop a global marketing strategy, assemble your global team, prepare for localization, choose technologies wisely, and help your company scale across borders.
Telephone Interpreting
I wrote this book early on in my career, after working at AT&T Language Line, to help people learn more about the field of remote interpreting. This service is used widely all over the world to deliver life-saving services at hospitals, to ensure equal access to justice in courtrooms, and pretty much every place else when you can't have human interpreters on site and in person.
While this book is older, much of the advice still applies to all forms of remote interpreting, including telephone and video interpreting. You can order a printed copy here. I also made the book available online for free to help interpreters who are delivering life-saving services while adjusting to remote interpreting for the first time as a result of the COVID-19 global pandemic. You can access it online for free here.
Book Chapters
I've also contributed chapters to many other books (mostly for the academic field of translation studies) and have authored or co-authored several articles in academic journals. That was all before I realized I'm a better fit for the business world than for academia. 😉 The easiest way to find those items, rather than list them all, is to just use this page from Google Scholar if you're interested.
Articles
Harvard Business Review
I've been contributing to Harvard Business Review for many years. Helping business people solve problems related to global growth is something I really care about.
Here are some of my articles:
Looking for New Markets? Bigger Isn't Always Better (also did a related webinar with HBR, How to Develop a Targeted Market Expansion Strategy)
Implementing Inclusive Policies Across a Global Organization
Five Ways to Foster a Global Mindset in Your Company (also did an HBR webinar on this topic here)
Research Shows Immigrants Help Businesses Grow. Here's Why.
7 Traits of Companies on the Fast Track to International Growth
The Most Common Mistakes Companies Make with Global Marketing
You can see the rest of them here.
New York Times
I wrote this piece on why the United States does not do enough to protect military interpreters for the "At War" section of the New York Times.
Boston Globe
Published this op/ed piece in the Globe on overcoming language barriers.
Forbes
I wrote this piece for Forbes to help shine a light on interpreters and the translation industry at large.
Fast Company
This piece for Fast Company was about being an introverted leader. "Write what you know." Done!
National Public Radio
This first-person account is one of the pieces I'm proudest of, dating back to when I worked in the language access space, helping health care workers support limited English proficient patients. You can also listen to the audio version of it that aired on National Public Radio.
Huffington Post
I also wrote 45 articles for the Huffington Post on a variety of lighter topics related to localization and global business. You can see the full list here.
HubSpot
I'm proud to have written various posts for the HubSpot blog, a major destination for companies seeking to grow. My posts are available here, and on ThinkGrowth.
CitatioNs
I've frequently served as a subject matter expert for reporters and journalists, and always happy to share insights on topics I can help out with. Here are some of the more memorable ones.
New York Times. I've helped a few reporters from the Times with articles, such as this one and this one.
RadioLab. This podcast is a fave of mine, and it was a joy to be a guest in their NYC studio. The hosts were genuinely interested in my experiences working remotely as an interpreter, which I wrote about in Found in Translation.
National Public Radio. This interview about Peter Less, one of my personal heroes, who helped bring Nazi war criminals to justice, is very special to me. It was an honor to help more people learn about him.
Public Radio International. In this piece, which talks about translation tech, I referred to machine translation and human translation as "frenemies." (Still holds true!)
Inc. This article outlines mistakes companies can avoid when choosing brand names.
Fast Company. This article talks about the future of translation tech and my conversation with Ray Kurzweil on the topic.
The Week. This article features a bunch of stories covered in Found in Translation. Arika Okrent the author, is a respected author in the field of language journalism as well.
CBS News. This interview about Found in Translation sheds some light on what the book is about.
NBC News. This article discusses making a career out of interpreting.
The Guardian. This piece covers translation tech and the future of the profession.